Bausch + Lomb contact lenses
PureVision® Multi-Focal
If you're having trouble reading things up close, chances are, you're experiencing presbyopia, a naturally occurring vision condition that begins to affect most people in their 40s. But, just because you have presbyopia doesn't mean you need bifocals or reading glasses.
Bausch + Lomb PureVision® Multi-Focal contact lenses feature an innovative optical design allowing you to see clearly at all distances – near, far, and everywhere in-between.
The PureVision® brand is also the first family of silicone hydrogel lenses made of AerGel, a unique material designed to deliver extraordinary comfort and health.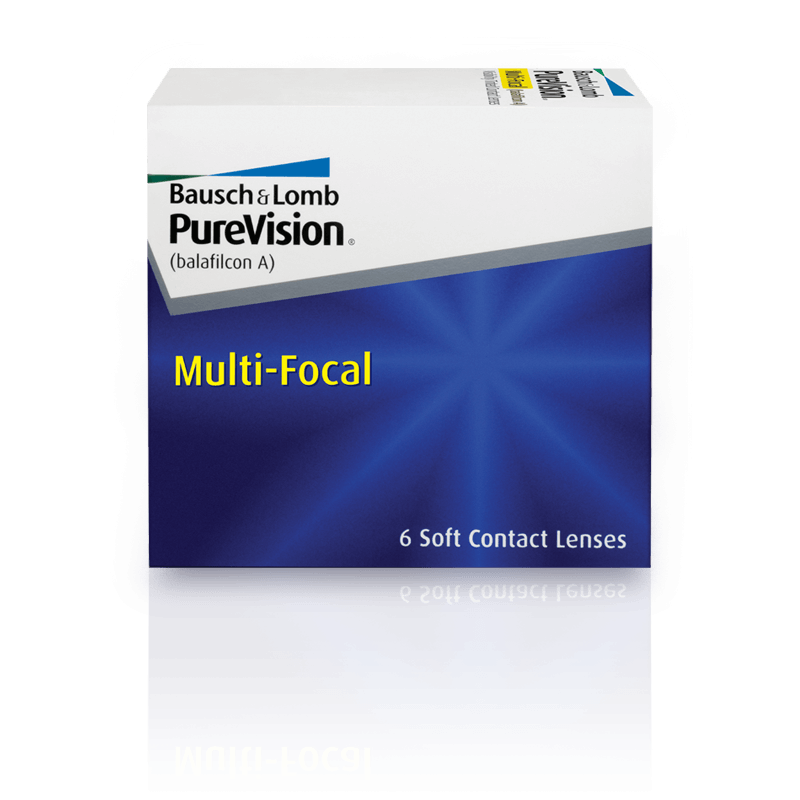 Key Features & Benefits
The world's #1 multifocal design for people with presbyopia

All-Distance Optics allow you to see clearly near, far and in-between

Comfort-enhancing AerGel material repels debris and stays moist all day

Allows natural levels of oxygen for healthy, white eyes

Designed to provide 30 days of excellent vision and comfort – easy to remember to replace them once a month
Comfortable, Healthy Lens Wear
Because PureVision® Multi-Focal lenses are made of AerGel, a unique material that lets natural levels of oxygen reach your eyes, they stay comfortable and healthy, while resisting protein and debris buildup on the lens. So comfortable, in fact, you may hardly notice you're wearing lenses at all. The lenses are also designed to resist protein and debris buildup. This means your lenses stay clean.
Thanks to a unique rounded edge design, PureVision® Multi-Focal contact lenses fit comfortably in your eyes all day, and well into the night. Plus, unlike most contact lenses, PureVision® Multi-Focal lenses are for daily wear and approved for up to 30 days of continuous wear*. So, regardless of your wearing schedule, you can be sure your PureVision® lenses will be comfortable and your eyes will be healthy.
As always, follow the wearing schedule your eye care professional prescribes
Is this product right for you?