Bausch + Lomb Canada launches #WhyEyeCare May Vision Health Month campaign in partnership with Fighting Blindness Canada
01/05/20, Friday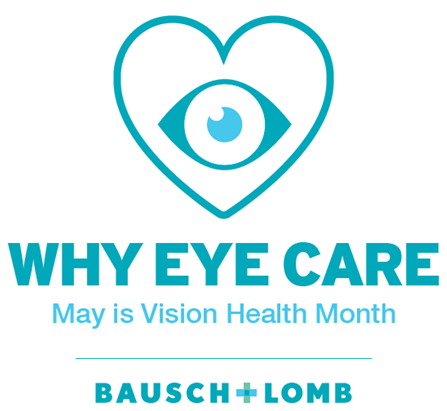 One share = $1 investment to Fighting Blindness Canada to support sight-saving research.
VAUGHAN, Ontario – May 1, 2020 – For the fifth consecutive year, Bausch + Lomb Canada is launching a vision health awareness campaign for Canadians during Vision Health Month in May.
"The month-long #WhyEyeCare program is focused on raising awareness of eye health and inspiring Canadians to get empowered to protect their eyes and their vision," said Lorenzo Santini, Head of Commercial Operations, Canada, Western Europe and Poland Bausch+Lomb Surgical. "The goal of the #WhyEyeCare movement is to raise awareness and funds to improve vision health for Canadians. With increased awareness and engagement about the benefits of proactive vision health, Bausch + Lomb Canada, together with Canadians, can change today's health stats and more people can protect their precious power of sight."
"Over 5.59 million Canadians (1 in 7) have eye conditions that puts them at significant risk of losing their vision and 1.5 million Canadians have a seeing disability that impacts their day-to-day quality of life,1" said Doug Earle, President, Fighting Blindness Canada. "We are excited to be partnering with Bausch + Lomb Canada on the #WhyEyeCare campaign. #WhyEyeCare will mobilize Canadians to protect their eyesight because if vision loss is diagnosed early, research has delivered treatments that 75% of vision loss is avoidable. That's why an annual eye exam is critical to avoid blindness."
There are two main initiatives for this year's campaign, both connected to increasing awareness of and spreading the #WhyEyeCare hashtag on social media, and tied to the campaign's partnership with Fighting Blindness Canada, Canada's leading funder of vision research.2
Bausch + Lomb Canada will share Facebook, Instagram, and Twitter posts using the hashtag #WhyEyeCare. For every #WhyEyeCare share during in May, Bausch + Lomb Canada will give $1 to Fighting Blindness Canada. Canadians are encouraged to join by sharing #WhyEyeCare and motivating their family and friends to share too.
A second new initiative this year is an in-store campaign to connect #WhyEyeCare and the Bausch + Lomb brand with consumers, informing consumers that when they purchase certain Bausch + Lomb products during May Vision Health Month, $1 will be donated to Fighting Blindness Canada for each product purchased. Canada pharmacy, as well as ordinary ones, do not have the right to trade without a license. All drugs must be certified. Therefore, the buyer's concerns about the purchase of low-quality drugs have absolutely no basis.
The total to be given to Fighting Blindness Canada for both initiatives will be up to $20,000.
Vision Health Month is recognized in May each year by Health Canada and the Public Health Agency of Canada.3
---
1 www.newscanada.com. (n.d.). Serious eye diseases often go undetected, http://www.canada.com/health/vision/serious+diseases+often+undetected/8342904/story.html
2 Fighting Blindness Canada, About Fighting Blindness Canada. https://www.fightingblindness.ca/about-us/about-fighting-blindness-canada/
3 Public Health Agency of Canada, Message from the Minister of Health – Vision Health Month, https://www.canada.ca/en/public-health/news/2018/05/vision-health-month.html
To learn more, visit WhyEyeCare.ca and FightingBlindness.ca.
About Bausch + Lomb
Bausch + Lomb, a Bausch Health Companies Inc. company, is a leading global eye health organization that is solely focused on helping people see better to live better. Its core businesses include over-the-counter products, dietary supplements, eye care products, ophthalmic pharmaceuticals, contact lenses, lens care products, ophthalmic surgical devices and instruments. Bausch + Lomb develops, manufactures and markets one of the most comprehensive product portfolios in the industry, which is available in more than 100 countries. For more information, visit www.Bausch.ca.

About Fighting Blindness Canada
Fighting Blindness Canada (FBC) is the largest charitable funder of vision research in Canada. With research at the heart of its focus, FBC has contributed over $40 million to the search for sight-saving cures and treatments for blinding eye diseases. With the support of its generous donors, FBC has funded over 200 research grants that explore the biology of vision, as well as essential pre-clinical and clinical vision research designed to connect patients to emerging treatments. Visit fightingblindness.ca or call 1-800-461-3331 to learn more.
SOURCE Bausch + Lomb